Approved Power Services & Northumberland Primary School celebrates National Road Safety Week with North Sea Link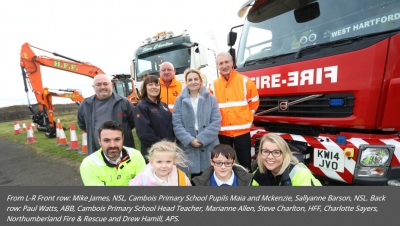 The team behind the world's longest subsea electricity cable, North Sea Link, hosted a fun-packed activity day for Cambois Primary School pupils on 21 November to encourage greater understanding of road safety in line with National Road Safety Week (18-24 November 2019).
North Sea Link, a partnership between National Grid and Statnett, will connect the electricity systems of the UK with Norway, allowing the sharing of renewable energy between the two countries. North Sea Link's UK-based converter station site is in Cambois.
North Sea Link staff were keen to help educate local youngsters and prevent further accidents in the area. Northumberland has seen over 300 collisions this year, including 40 involving children. The specially organised event actively engaged 70 pupils aged from 3 to 11 years, and promoted the importance of staying alert and showing caution when walking or playing next to roads.
Following the school assembly, the North Sea Link team, joined by contractors APS and ABB, brought a variety of diggers and small construction vehicles for the children to explore. APS also kindly donated items to the school including scooters, footballs and other sporting equipment.
Staff were then joined by West Hartford Community Fire Station who, as well as exploring the dangers of all types of road vehicles, brought along a fire truck.
North Sea Link Communications Manager, Sallyanne Barson, said: "As Cambois is a small village, many of the children aren't used to busy main roads or seeing larger construction vehicles so often. That's why it's important for us to host regular events for the pupils and make them fully aware of the dangers.
"This is the second year we've arranged an event like this. The day was highly interactive with games, competitions, prizes and physical activities for all age groups. Having the involvement of the local community, firefighters from West Hartford and our contractors was hugely beneficial to the youngsters, so we're looking to build on this."
Marianne Allan, Headteacher at Cambois Primary School, added, "We're really grateful to North Sea Link for once again running the road safety awareness day. The children loved it, especially when they were given the opportunity to ask firefighters and construction workers questions whilst exploring their vehicles."